Oceania Cruises
Life on board
Afternoon Tea
Artist Loft
Bars and lounges
Boutiques
SPA
Casino
Entertainment & Onboard Shows
Library
Pool & Sports Deck
The Culinary Center
Stay Connected
Experience Riviera
Experience the warm and convivial atmosphere unique to Oceania Cruises: elegance without pretense. Feel wonderfully at home as you meet fellow shipmates, explore the ship and prepare for the fascinating ports of call you will soon discover. Meet friends for cocktails at Martinis and share adventures you enjoyed ashore. Join an afternoon bridge game, or perhaps simply relax by yourself in one of the many private retreats reserved just for you.
The stimulating variety of entertainment options on board our ships continually ensures your interests are piqued. Enjoy an engaging guest lecture by a historian, naturalist or former ambassador eager to share insider knowledge. Relax at a musical performance, perhaps featuring a live pianist, a classical string quartet, a dynamic vocalist or a spectacular headliner. Later, try your luck at the elegant Monte Carlo-style casino or go dancing at Horizons.
PARADISE
"Those who seek paradise on earth should come to Dubrovnik and find it."- George Bernard Shaw
Tea Takes Center Stage
A ritual that dates back to 19th century England, afternoon tea is still a cherished tradition the world over. But few tea times are as anticipated and inspired as ours, a celebratory daily event that irresistibly draws guests to Horizons at four o'clock sharp. As a classical string quartet plays softly in the background, our staff glides through the room presenting bountiful four-tiered pastry carts filled with freshly made finger sandwiches, colorful petits fours, richly textured scones with clotted cream, and wonderfully sinful desserts. Of course, a tempting selection of traditional and herbal teas is the essential centerpiece of this splendid afternoon pastime.
Daily at 4pm. No reservations required.
[/su_box]
Artist Loft
For budding artists, there is Artist Loft, where talented artists-in-residence offer step-by-step instruction. Under their watchful eye, you may paint with oils or watercolors, sketch or create collages. The courses change continually and are designed with every level in mind, so everyone from beginners to seasoned professionals will find the classes engaging and enriching. With the masters' guidance, your talents will quickly blossom.
Artist Loft available on board Marina and Riviera, and on Insignia world cruises.
FOODIES
It's no secret that Oceania Cruises has created the first ships at sea designed especially for foodies. Fine cuisine has always been one of our hallmarks, but did you know that our ships are also havens for art lovers?
[/su_column]
Wine Bar at La Reserve by Wine Spectator
La Reserve by Wine Spectator is now the perfect spot to sip and savor before dinner. Enjoy a curated selection of ever-changing, regional wines from the destinations we visit paired with locally inspired tapas.
Martinis
Martinis serves numerous incarnations of this famous cocktail in an intimate atmosphere reminiscent of a private gentleman's club, featuring live piano music.
Grand Bar
Before enjoying a gourmet meal, sample a rare vintage or imbibe your favorite libation as you enjoy spirited conversation with new found friends amid the opulence of the convivial Grand Bar.
Lounge
From headline acts to comedians and magicians to lively jazz ensembles, the Lounge is the center of nightly entertainment aboard Oceania Cruises.
Horizons
An elegant observation lounge with dramatic floor to ceiling windows and a country club casual ambiance, Horizons features our beloved teatime by day and transforms into a sophisticated evening venue by night. Dance the night away to the sounds of a lively musical group and enjoy cocktails with friends at the convivial bar.
Casino Bar
Try your hand at exciting table games such as blackjack, poker and roulette while enjoying a delightful cocktail from the Casino Bar. The air's always charged with anticipation as guests gather around the tables and the slot machines jingle with jackpots.
Waves Bar
Located in shaded area steps from the swimming pool, Waves Bar offers a wide variety of libations to enhance your poolside experience. A perfect afternoon on the deck with your favorite cocktail or a glass of wine or beer can be further enhanced with a decadent dessert such as a creamy homemade gelato, a made-to-order hot fudge sundae or a thick, hand-dipped milkshake. Nearby, at Waves Grill, chefs grill gourmet burgers, tangy barbecue and succulent seafood to order in the open galley, accompanying them with the side dishes like garden-fresh salads and crispy, hand-cut truffle fries dusted with grated aged parmesan.
Boutiques
Our three stylish boutiques feature a bounty of items ranging from sundries to designer casual wear. Feel free to browse through our array of duty-free merchandise including fine jewelry, fragrances and Oceania Cruises logo wear.
THE OCEANIA CRUISES EXPERIENCE
Intimate & luxurious ship catering to just 1,250 guests
Airfare included with Olife Choice Program*  guaranteed regardless of airfare price increases
Multiple open-seating gourmet dining venues, at no additional charge
FREE and unlimited soft drinks, bottled water, cappuccino, espresso, teas and juices
Port-intensive itineraries featuring must-see destinations and boutique ports
Overnight stays and evening departures for extended exploration
Luxurious yet relaxed country club ambiance
Spacious, sumptuously appointed suites and staterooms, 85% with private verandas
24-hour Butler service in all suites
Canyon Ranch® spa treatments and cuisine
Dedicated concierges for personalized service
Highly-trained staff selected from internationally acclaimed 5-star hotels and restaurants
The comfort of smoke-free environments throughout virtually the entirety of the ship
BEST VALUE IN UPSCALE CRUISING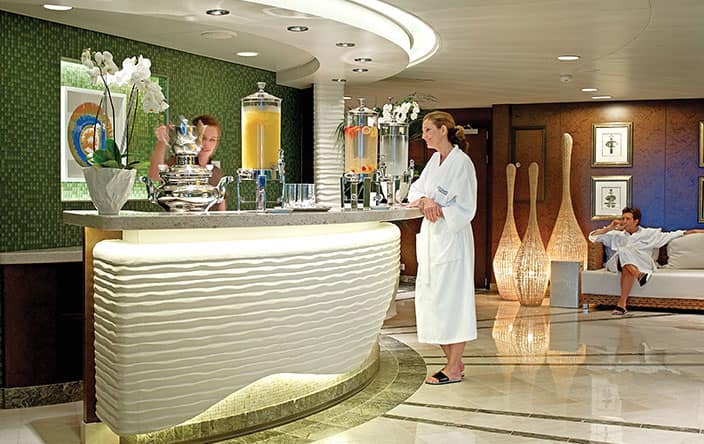 Canyon Ranch® Spa
More Than a Spa
Healthy living and spiritual awareness are at the very heart of the Canyon Ranch philosophy. Pushing the boundaries of spa services well beyond the traditional, its award-winning health resorts have been transforming lives since 1979, when the first one was created in Arizona's spectacular Sonoran Desert. Oceania Cruises and Canyon Ranch have recreated that unique, inspiring environment on board our ships. Through well-being explorations ashore, complimentary fitness classes, light and healthy Canyon Ranch Spa Cuisine and a multitude of healing therapies, you can discover ways to unleash your untapped potential and make positive changes in your life. Of course, the star element of any Canyon Ranch experience is a spa treatment that will leave you wondering how anything could feel quite so perfect.
View Canyon Ranch Spa Guide to Services
View Canyon Ranch Spa Menu of Services
For reservations, please contact Canyon Ranch at 877-329-1924
Restore and Revitalize
Lose yourself in deep relaxation with a signature Canyon Stone Massage or perhaps complete your wellness experience ashore with a Thai Massage, which originated in Buddhist monasteries. Ease into the soothing waters of the private, open-air whirlpool spa. All Concierge Level and Suite guests enjoy FREE unlimited access to the beautifully appointed Canyon Ranch® private Spa Terrace. More opportunities await you in the state-of-the-art fitness center, where you may exercise on the latest fitness equipment or join a free class in yoga, Pilates, indoor cycling, aerobics or one of the many other options. We also encourage you to attend complimentary presentations on how to enhance nutritional balance and spiritual wellness.
BEAUTY & WELLNESS
Canyon Ranch Spa ; signature treatments
State-of-the-art fitness center
Yoga, Pilates, indoor cycling, aerobics, private and group fitness classes and personal training
Kinesis exercise wall*
Private Spa terrace featuring thalassotherapy pool or whirlpool tubs
Sauna*, steam room, fitness track and beauty salon
Canyon Ranch Spa Cuisine served in the Grand Dining Room and
Terrace Café
Nutrition and lifestyle consultations; wellness presentations
Relaxation room and heated ceramic loungers*
*Available on board
Casinos At Sea®
Casinos At Sea Rewards Program
Welcome to our Casinos At Sea rewards program. Elevate your game and your card status will follow with exclusive perks and privileges. Casinos At Sea reward points can be earned for many benefits, from free play, to complimentary drinks and exciting promotional offers. The more you play, the more you are rewarded.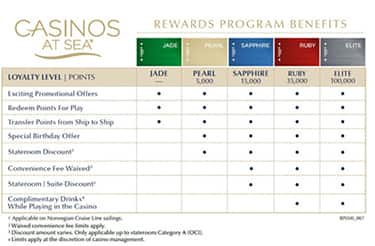 View Casino At Sea Program Details
Earn Casino Points
Getting started is easy. Stop by the casino cage and pick up your Oceania Cruises casino player card and start earning points today, by inserting your player card while playing your favorite slot machines and table games. The more you play, the more you earn!
REEL & VIDEO SLOTS For every $5 coin-in, receive 1 point.
VIDEO POKER For every $10 coin-in, receive 1 point.
TABLE GAMES Points are based on average bet, session play or hands played and game type.
Redeem Casino Points
You've played. You've earned. Now you're ready to redeem. Downloading points for play is quick and easy. Redeem your casino points for play right at your machine by following the on-screen prompts or stop by the casino cage – the choice is yours.
Casino Cash & Credit
Front Money deposits are accepted for gaming in the form of cash, traveler's checks, cashier's checks and wire transfers delivered to us prior to embarkation. All cashier's checks require prior verification. For more information please give us a call at 877.625.2094.
Cashless Wagering
Charge gaming to your onboard account directly from your game of choice or at the casino cashier, using your stateroom key card. Convenience fees, daily limits and cruise limits apply. Euros may be exchanged at the casino cashier, exchange rates apply. All gaming is in US Dollars.
Credit
Casino Credit is available to all players with an existing reservation. The minimum application amount is $10,000.00 and a personal check is required onboard to activate the credit line. Applications are processed 1 month prior to sailing. The application process is easy and there is no fee to apply. To get started, click here for our credit application or for more information email us at casinocredit@ncl.com or call us at 877.625.2094.
CASINO AT SEA®
Action packed casinos designed with style
Table game limits for players of all levels
Diverse array of reel slot, video slot and video poker machines
Earn points for all your casino play
Redeem points for play right at your machine
Cashless wagering allows you to game with your key card
Casino credit available
Dedicated and knowledgeable casino staff
Industry leading player tracking system
Free gaming lessons
Call Casino At Sea® today (855) 252- 6856
Entertainment & Onboard Shows
If you're an arts aficionado, you'll find our entertainment lively and engaging. Evenings aboard can be anything you desire. Marvel at the continuously changing talented guest entertainers as you delight in themed music sets and colorful folkloric shows inspired by your locale. Relax to the classical melodies of the string quartet. Chat with newfound friends over cocktails in Martinis as you enjoy the live piano music. Attend a spectacular production show in the Lounge, dance the night away in Horizons to the sounds of a marvelous musical group or show your talent at karaoke. Bold and crowd-thrilling, nostalgic and upbeat, or intimate and sophisticated – whatever you choose, the night is yours.
Riviera's versatile and talented cast performs the following diverse production shows: 
World Beat
This musical voyage around the world will let you feel the percussive beats of Irish tap dancing to the rhythmic cadences of the New York City streets. You will be moved by the soulful drums of Africa and the dramatic Kodo rhythms of Asia. Experience this international journey as we bring to you…World Beat.
That's Entertainment
From the Golden Age of cinema to the glitz glamour of current pop culture, That's Entertainment is inspired by the talent and excitement of showbiz icons. From Sinatra and Monroe to Elvis and Madonna, join the Oceania Cruises Riviera Production Cast as they bring to life the hits of yesterday and today in…That's Entertainment. 
The Look of Love
The Look of Love – The Music of Burt Bacharach tells the story about a group of friends who witnesses a marriage proposal and decides to take an impromptu trip to Las Vegas. Though the bachelor and bachelorette parties go their separate ways, they end up together at the San Jose Bar. The Look of Love explores the push and pull of love and relationships. You can't help but fall in love again as if it's the first time.
Lights, Camera, Music!
In this elegant tribute to the greatest moments of the Hollywood Movie Musical, see your favorite cinematic classics come to life from the romantic glamour of the 1940's to the high-kicking can-can of the Moulin Rouge! So curtain up…light the lights… as we proudly present… Lights, Camera, Music!
FROM OUR BLOG
We recently had the chance to catch up with Barbara Seagram, one of Oceania Cruises' much-loved Bridge Directors, and learn more about her and bridge aboard the ships.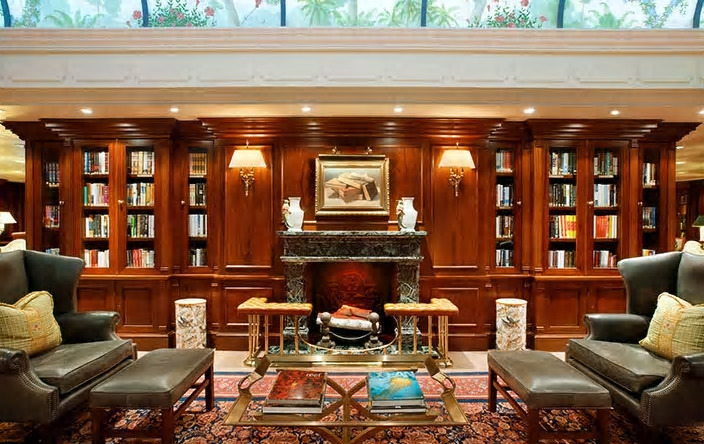 Library
Enrich your mind in the tranquility of our English-style Library with over 2,000 books and periodicals ranging from destination-specific guide books to best-selling mysteries to classic literature.
COMFORT AND LUXURY
Just as sailing aboard Oceania Cruises recalls the elegance of the Golden Age of Travel, our inspired English-style library is reminiscent of a charming English country estate where you can while away the hours in ultimate comfort.
Pool & Sports Deck
With a large pool and three whirlpool spas, there is always room for a refreshing dip in the pool, poolside relaxation, or a soothing spa experience.
SPORTS DECK
Golf Putting Green
Shuffleboard
Paddle Tennis
Fitness Track
Croquet/Bocce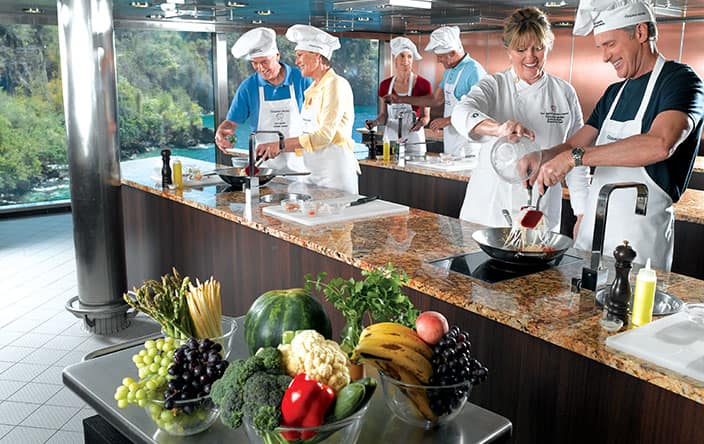 The Culinary Center
For those enthusiasts seeking enlightenment beyond that found in a library or a lecture, Riviera and Marina offer the first custom-designed and truly hands-on cooking school at sea. At The Culinary Center, you will learn how to prepare a variety of exquisite dishes at your own fully equipped workstation in a state-of-the-art teaching kitchen. Master Chefs from around the world offer guidance and inspiration to fine-tune your techniques, but you will actually prepare the dishes yourself. It's the ultimate way to learn and truly absorb every step of each recipe, especially since at select ports you may accompany the instructor chefs while shopping for fresh ingredients ashore at local markets on our exclusive Culinary Discovery Tours™.
Onboard Cooking Classes
Across the Isles 
Seasonal farm-to-table recipes personify the cuisine and traditions of the British Isles. In more recent times, the region has embraced the myriad cuisines of the cultural melting pot that has shaped the isles and made cities like Dublin and London destination cities for foodies. Inspired by Darina Allen of Ballymaloe in Cork, Ireland and other revered chefs of the region, this class is a far cry from bangers and mash.
Austin Renaissance: A Tex-Mex Fiesta
Executive Chef Kelly has had a chance to get to know this emerging culinary darling since her daughter and family have re-located to the Texas capital. As she samples the city's most notable restaurants, she is constantly on the look-out for flavorful, savory Tex-Mex recipes you can easily make at home. In addition to learning her favorite recipes, you'll also try a featured cocktail from one of Austin's mixology masters. If you love Tex-Mex food but are reluctant to try it at home, then this class is for you.
Discover Patagonia 
The culinary world has its eyes on the cuisine of the Patagonia region. Regarded as the hot new cuisine, chefs have traveled to these remote parts to learn the secrets of Argentine grilling, as well as Chilean roasting and baking. Attend this cook-out class that features delicious and hearty dishes that you will definitely want to make at home to impress your friends. No meal in Patagonia is complete without wine, so a special focus will be made on sampling and pairing the region's varietals.
In the Kitchen with Jacques
Help us celebrate the glorious career of our Executive Culinary Director, Jacques Pépin. Regarded in the chef community as the master of technique, Jacques has demonstrated a lifelong passion for culinary technique that inspired this class. Brush up on your knife skills and master the emulsion – the secret to perfect salad dressings. Prepare a collection of delicious dishes while practicing the basic techniques that chefs have learned from Jacques over the past six decades.
Mediterranean Journey
The Mediterranean is revered for its cuisine and this class allows you to take a epicurean journey around the region, celebrating signature dishes from France, Greece, Israel, Italy, Morocco, Spain and Turkey. Each class reflects your Chef Instructor's personal favorites from their years of tasting and traveling throughout the Mediterranean. Without a doubt, this class is a guest favorite and the chefs enjoy featuring wines and recipes from their most recent journeys across the majestic Mediterranean Sea.
Most Requested Red Ginger
Our famed restaurant Red Ginger is the inspiration for our class devoted to Asian cuisine. In this class you will explore two diverse cuisines: Chinese and Thai. You will master classic Asian ingredients as well as fundamental cooking techniques such as knife skills, mise en place and high-heat cooking. You also will learn how to work with rice paper and pad Thai noodles.
Northeast Feast
This unique class casts the spotlight on one of life's great luxuries: indulging in fine wines paired with delicious food. Whether you are interested in learning how to select wines for a dinner party or are searching for the right recipes to highlight your favorite wines, this class will expand your food and wine pairing horizons as you learn the secret to creating your own perfect pairings. You'll not only prepare several dishes, but you'll also taste and evaluate several carefully matched pairings.
Slice: Mastering Chef Knife Skills
Oceania Cruises is proud to partner with Zwilling Company, makers of the chef-favorite J.A. Henckels knives, to develop one of our top guest-requested classes – a comprehensive knife skills class. You'll get a chef's look at a complete pantry of knives and enjoy the chance to try out a few chef knives to discover the best option for you. You'll also learn how to sharpen and maintain this essential kitchen tool, practice various knife cuts and discover how to safely use the mandolin slicer – Chef Pépin's favorite kitchen tool. At the conclusion of your class, you'll receive a special Knife Skills certificate along with a savings voucher for your favorite Zwilling Company knives.
THE CULINARY CENTER
The first hands-on cooking school at sea to offer hands-on instruction
Expert master chefs provide instruction in a professional teaching kitchen with fully equipped individual cooking stations
Our hands-on classes are perfect for every aspiring chef
Expand your culinary knowledge through shoreside events and Culinary Discovery Tours™
Learn everything from regional cuisines to barbecue grilling
Stay Connected
Oceania @ Sea Computer Center
Stay connected with family and friends or monitor business developments in our 24-hour Internet center, Oceania@Sea. For personalized service, Oceania@Sea is fully-staffed on both sea days (8 a.m. – 7 p.m.) and port days (8 a.m. – 11 a.m. and 3 p.m. – 7 p.m.).
Internet
Oceania Cruises also offers wireless Internet access throughout the ship, allowing you to connect through your laptop or mobile device.  And as an added convenience, guests in all Owner's and Vista Suites will have the use of an iPad® throughout the voyage.  iPad® is available upon request for Penthouse Suites and Concierge Level Staterooms (limited availability).
Mail
Letters and postcards with the appropriate postage can be mailed at the Reception Desk. Postage for mail may be purchased at the Reception Desk for a nominal fee. Mail will be collected one hour prior to sailing from each port of call.
Incoming mail or faxes received by the ship on your behalf will be delivered directly to your stateroom.
Phone
Oceania Cruises offers Wireless Maritime Services (WMS) for all GSM mobile phones and GPRS devices such as Blackberry® when the ship is at sea.
You can make and receive phone calls, send and receive text messages and use other data services when the ship is at sea. You will be billed by your mobile phone provider and calls or messages will appear as roaming charges on your bill. While using the WMS service, international maritime roaming rates will apply. Please consult your wireless service provider for detailed rates and service zones.
Sujet à changements. Les destinations, descriptions et renseignements sont à titre indicatif seulement. Les informations contenues dans nos pages Web sont les plus représentatives des produits offerts. Cependant il peut arriver que des erreurs se produisent lors de la reproduction des documents et seules les informations contenues sur le site du voyagiste sont les bonnes et sont les dernières mises à jour. Pour plus de certitudes nous vous conseillons de vérifier avec un de nos agents tout renseignement que vous jugez utile et important avant de faire votre réservation.
Toll free
Or fill the form and one of our Club Med experts will get back to you as soon as possible.
Opening hours

Monday to friday

8 AM to 5:30 PM

Saturday

9:30 AM to 4:30 PM

(Except July, closed)

Sunday closed