Club Med Mexico IXTAPA PACIFIC at best price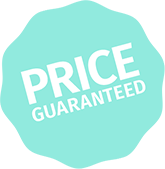 Club Med Mexico Ixtapa Pacific, enjoy a playing field as vast as nature itself, at best price.
Welcome to the world's biggest sport academy: Club Med. On the water, on the ground or in the air: the all-terrain activities on offer are mapped out just for you. With coaching from your G.O®, experience new sensations. Or find joy in improving your technique in a friendly setting. Are you looking for relaxation ? Try our fun leisure activities and lively evening entertainment. If you have a thirst for adventure, choose our excursions.
Sailing school
Other activities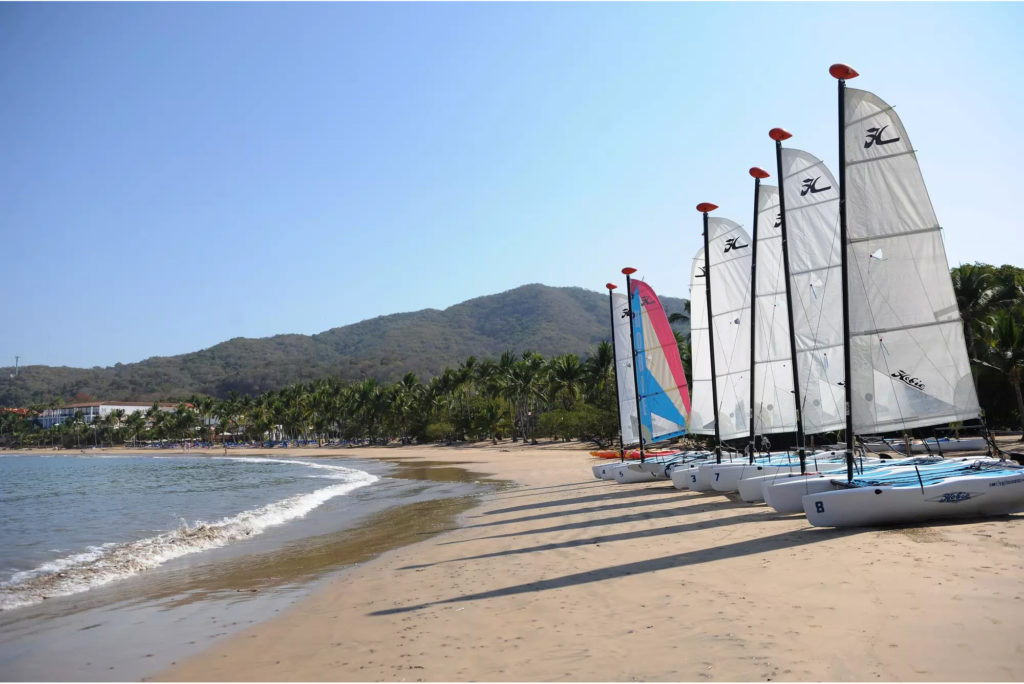 Take advantage of your privileged location on the edge of the Pacific Ocean to sail or discover sailing. Direction the beach to embark on one of the catamarans. Introductory courses are offered and taught by your G.O®. Take off to meet your desire to escape.
Included activities
Group lessons
Initiation group lessons
Group lessons 6 days a week, to ensure all participants make good progress and master their movements.
Age: Starting from 6 years
As a regular activity at Mini Club Med®: 6 years old. In group classes with adults: 11 years old. Our G.O®s all have qualifications recognised by the French Sailing Federation, or equivalent qualifications or experience in other countries.
Equipment on loan
Full equipment adapted to each age group and the different levels of expertise, loaned during the lessons and packages.
Equipments:
Multihulls (Catamaran – Hobie Cat 15) Included
Hobie Getaway Included
Free access to sailing
Duration: Every Day
Age: Starting from 8 years
Accompanied by an adult: 8 years old. Unaccompanied: 16 years old.
Equipments:
Multihulls (Catamaran – Hobie Cat 15) Included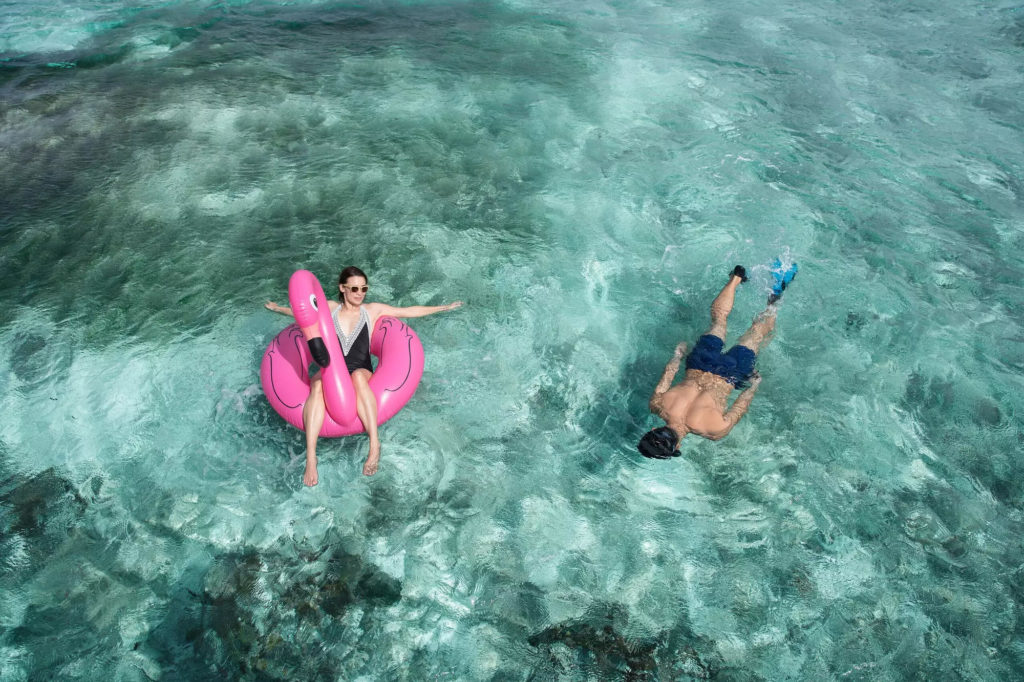 Do you want to dive into the heart of Village life? Go to one of the pools. In this real place of life, disconnect or reconnect with your tribe. Do the board in the water or on your deckchair. Give it all there during this aquafitness class. Indulge in a laze with a view or a drink by the water. You have the choice.
Included activities
Kayaking
Initiation group lessons
Single and two-seater kayaks available.
Age: Starting from 6 years
Accompanied by an adult: 6 years old. Unaccompanied: 11 years old.
Group lessons > as a discovery activity at Mini Club Med®: 6 years old (this is a first experience of the activity, with one or two sessions per week) > as a regular activity at Mini Club Med®: 8 years old > in group lessons with adults: 11 years old
Stand Up Paddleboarding
Free access
This activity is done in the sea, close to the shore. The paddler stands on a large surfboard and paddles, the difficulty being to keep your balance (originally it was done lying on the board and using your arms like a surfer).
Age: Starting from 8 years
from 11 years old or from 8 years old accompanied by an adult
On demand activities*
Surf
All levels
Ride the waves of the Pacific Ocean. Several nearby beaches are great for surfing. Known for their rollers, they have great conditions for both those trying the sport for the first time and committed surfers. From the Resort, you can walk over the sands with your board under your arm until you find the best spot.
Age: Starting from 6 years
Five minutes from Club Med.
Price include: a private lesson, equipment rental and transportation to the surfing spot. For equipment rental only


Sujet à changements. Les destinations, descriptions et renseignements sont à titre indicatif seulement. Les informations contenues dans nos pages Web sont les plus représentatives des produits offerts. Cependant il peut arriver que des erreurs se produisent lors de la reproduction des documents et seules les informations contenues sur le site du voyagiste sont les bonnes et sont les dernières mises à jour. Pour plus de certitudes nous vous conseillons de vérifier avec un de nos agents tout renseignement que vous jugez utile et important avant de faire votre réservation.
Toll free
Or fill the form and one of our Club Med experts will get back to you as soon as possible.
Opening hours

Monday to friday

8 AM to 5:30 PM

Saturday

9:30 AM to 4:30 PM

(Except July, closed)

Sunday closed
SAVE MORE: GIFT CERTIFICATE UP TO $1000.
Write your e-mail address and we will send it to you now. No need to buy anything. Limited time offer. Special promotions for families or couples, contact us for details.
$100 per adult if you find a cheaper deal
We guarantee the best available price at time of booking. If you find the same deal for less elsewhere, we will match that price plus give you a $100 gift certificate per adult.